We are in the home stretch of integrating the Hologic Link and the Gen-Probe Wizard to form one, new, global intranet site and we would love to hear your ideas for a new name!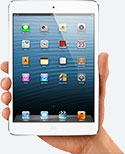 Submit your entry (or entries!)
for the intranet's new name by


Tuesday, January 29, 2013

for a chance to win a new iPad mini!

Don't miss out. Share your ideas now!
Have any questions or comments? Email us